Toronto's status as a desirable upscale, international destination for buyers and investors is well earned. Canada's largest metropolitan area and its biggest economic engine, the city, and its surrounding neighbourhoods, boast one of the world's most dynamic collections of real estate.
Even before the pandemic-induced seller's market of 2020 and 2021, inventory of detached and semi-detached homes (as well as the similar but smaller townhouse and row house inventory) was in short supply across Toronto. Demand remained at record levels, and even with new inventory, there was barely enough to keep pace.
But the once high-flying market suffered setbacks over the course of 2022.
Sales for single-family residences, which make up the bulk of the region's housing inventory,
dropped 96 percent year over year
for the period ending in September. New condos saw a similar, though slightly less dramatic, drop of 89 percent.
Attributable mainly to the recent economic uncertainty and considerably higher interest rates than the previous two years, a silver lining has emerged for those seeking homes in the near future – especially if those properties are new construction condos in the heart of the city.
Opportunities exist in Toronto's upscale condo market
That new and future inventory is bringing some
balance back to a market
heavily tilted toward sellers. Higher borrowing costs have given the market some space to breathe. Still short of the approximately nine-month supply needed for a truly balanced marketplace, the current
four to five-month supply
is a cautiously welcome sign.
While the prediction of population growth in the years ahead ensures new inventory won't sit idle over the next decade, right now, long-suffering buyers find themselves with better opportunities. Investors may also uncover a welcoming market for long-term gains. In either case, Toronto developers are doing what they can to give luxury home shoppers plenty of options, both now and well into the future.
Below we explore Toronto's new luxury condo development market. Included is a brief look at high-end units available now, under construction, or taking on reservations for future occupancy.

Condo development outlook
As one of the premier condominium hotspots in the world, Toronto's high-end, high-rise residential market is constantly evolving. Through November, year to date 2022, condo apartments
represented 28 percent of all home sales
– second only to detached, single-family homes. Roughly 15 percent of those sales occurred in the luxury segment, priced from $900,000 or higher. Ultra-luxury units, starting at $2 million, made up one percent of the total sales.
It's within this specific submarket where most of the city's new upscale housing appears. Many condos will see sales carry over from 2022, with more completions set to join the market in 2023. adding to the is set to expand over the remainder of the decade. Pre-construction features several new developments selling for 2025 and 2026 and several others set for as late as 2028.
Currently selling
Despite some uncertainty clouding the market, several high-profile condominium projects drew plenty of interest and generated strong sales throughout the year.
Arguably, the most high-profile of the new completions include the seven-unit, five-storey The Sixteen in Downtown Oakville and the 30-storey, 555-unit Panda Condos near bustling Yonge-Dundas Square. Both ultra-luxe developments afford buyers some of the best high-end finish-outs and amenities in Toronto. Both properties still have units available. The Panda Condos is selling for $1.7 million plus, while The Sixteen's remaining two units are available for just under $3 million.
Another 2022 development with opportunities still remaining heading into 2023 is the 216-unit, mid-rise Bianca on Dupont Street. Situated along the boundary between the
Annex-Casa Loma neighborhood
, the 9-storey Bianca features gorgeous architecture, large units centered around terraced living, and a rooftop pool. Finished in the spring, a handful of opportunities remain, starting at $1.7 million.
Move-in 2023

You'll find a condo marketplace filled with opportunities if you plan to move in the coming 12 months.
The prestigious
Forest Hill
neighbourhood has three major mid-rise developments hosting first-time residents, starting with the 9-storey Monza Condos this summer. A month later, the 12-storey, amenity-rich St. Clair Village will welcome its first condo owners. Near the end of the year, the sophisticated Forest Hill Private Residences completed construction on 94 units across 9 floors.
The charming enclave that is
Leaside
will add two high-dollar developments to its landscape in 2023. The Upper East Village Condos will finalize the finishing touches on its 514 units by the end of spring. The intimate, 44-unit 1414 Bayview will tuck in along the area's lush greenery, offering a quaint mid-rise alternative to the city's flashier high-end condo offerings.
Finally, this year will see the vibrant blocks of Midtown add two more developments to its coveted stock of luxe condo residences near
Yonge-Eglinton
. Lavish architecture and fashion-forward interiors highlight the e2 Condos on Roehampton Avenue and the Line 5 Condos on Broadway. Each property has units still available, though they are not expected to stay on the market for long.
Under construction

Beyond 2023, there's an exciting list of new condo developments currently under construction across Toronto. More than 35 new mid- and high-rise communities will hit the market in just over a year. Thirty more are under construction for move-in dates set for 2025 and 2026.
Below we detail the highlights for the next round of Toronto's high-end condo development.
Available 2024

From the 25-floor Nautique Lakefront Residences in Burlington to the 105-unit Four Sixteen in Whitby to the nearly 20 completions scheduled for the heart of Toronto, 2024 will offer buyers and investors a ton of variety across the metropolitan area.
The halfway mark of the decade sees that variety bring about an impressive stock of luxurious communities. Effectively a roster of ultra-luxe residences, its starts with the 133-unit 50 Scollard Condos in the heart of
Yorkville
and, nearby, the elegance and grace of 89 Avenue Yorkville. Finally, the appropriately named, The One will tower 85 stories above Yonge and Bloor Street in Midtown Toronto, with breathtaking suite and penthouse residences occupying the upper floors.
The highly anticipated Sky Tower at Pinnacle One Yonge will open its doors in 2024. Part of a reimagining of the once dilapidated One Yonge Street, the more than 4 million square foot mixed-use development includes 2,220 units and 50,000 square feet of amenities across three residential high-rises. The 95-storey centerpiece Sky Tower will be Canada's tallest residential tower.
Available 2025

Maybe lacking in similar record-breaking headlines, 2025 will showcase plenty of new high-rise communities just as worthy of attention from buyers and investors. Boasting its own unique brand of spectacular, much talked about Bauhaus Condos in Old Town and 11 Yorkville will welcome residents in the first half of the year.
400 King West Condos, a shimmering 612-unit high rise stretching 49 floors, will finish its build in June 2025 with a collection of large, opulent floor plans, topping out at 3,200 square feet. Select units will command an asking of at least $4.5 million.
Also, in 2025, the repurposed Capitol Theatre will make its show-stopping debut as
The Capitol Residences
. The 14-floor, 145-unit masterpiece stays true to its roots with its original marquee intact while updating the historic building for a modern audience of homeowners. With a bevy of amenities, including a 24/7 concierge, and a range of beautiful floor plans priced from $1 million, The Capitol Residences will soon be the latest icon to capture Toronto's imagination.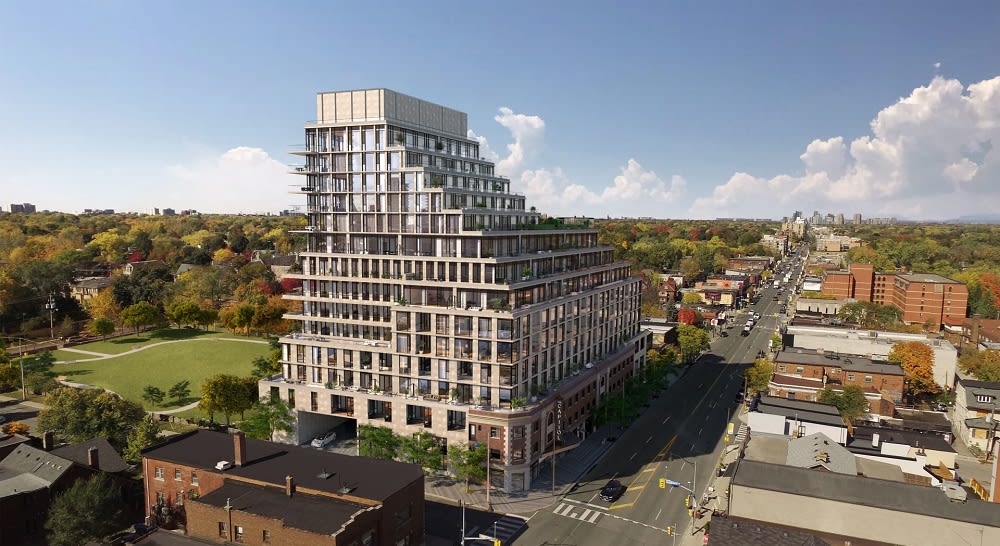 Available 2026

Unless timelines move up or back, 2026 currently sees a lull for luxury condo completion. Several projects have yet to start, and a few others remain in early pre-construction. That said, One Delisle's innovative 44-storey tower recently broke ground. Certain to be one of Toronto's eye-popping new builds, the 85-floor Concord Sky is also under construction.
If the planned, iridescent gold penthouse doesn't speak to the nature of the
Alias Condos
under construction at the corner of Church and Richmond and Church, its location near the heart of Old Town certainly will. Slated to top out at 45 stories, Alias is set to take its place among Toronto's trendiest, most fashionable new communities. Approximately 546 units are planned, with prices expected to run from $1.3 million to $2.3 million.
Pre-construction
Though sometimes difficult to consider reserving a new, non-custom residence five years before its completion, an in-demand marketplace such as Toronto makes it a necessity. Two properties, in particular, deserve recognition as they stand to make an indelible mark on Toronto's already vaunted skyline.
The first of these is
8 Elm Condos
. What is set to become one of the city's most stunning landmark buildings in the heart of the Yonge-Dundas neighborhood, 8 Elm is currently taking registration for a Spring 2027 occupancy. It will sit atop the historic James Fleming heritage building, which will be preserved in construction. The modern, spire-like structure will include incredible high-rise views and more than 25,000 square feet of amenities. The building is slated to top out at 69 storeys with 819 total units.
Forma is the second, and perhaps most notable, pre-construction condo property scheduled in the next five years. Located in the heart of Downtown Toronto, between the city's financial and entertainment districts, Forma is a planned mixed-use development designed by legendary architect and Toronto native Frank Gehry. Set to become the tallest design in his world-renowned portfolio, two iridescent towers will top out at 73 and 84 storeys, adding 2,034 units downtown. With an estimated occupancy in early 2028, Forma is destined for landmark status on an already legendary skyline.
Are you ready to explore even more of Toronto's finest offerings and its exceptional luxury condominium market?
Reach out to Homes with Sophia today
, and allow our experience and expertise to guide you as you navigate Toronto's luxury real estate market.